One Vision One World Karmaveer Puraskaar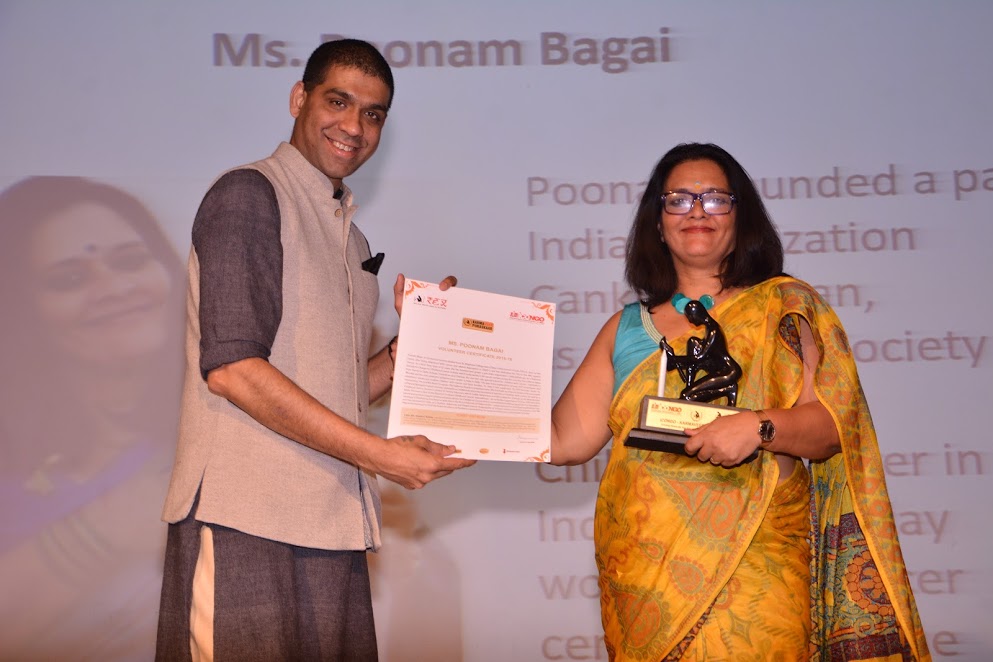 Ms. Poonam Bagai
Poonam Bagai, an Economics Honors student from St. Stephens College and a Class I Government of India Officer, gave up her career, after being diagnosed with cancer and related depression in 2000-1, and has dedicated her life to the War against Cancer. In a short time span of 12 years she has founded and grown a pan India organization CankidsKidscan, as a National Society for Change for Childhood Cancer in India, which today works in 45 cancer centers across the country; has 4 Home away from Homes in Delhi, Kolkata, Trivandrum and Chennai, the one and only special school for children with cancer- Canshala in Mumbai and the only paediatric palliative care center in India in Delhi. The pan India organization of over 400 employees and volunteers serves and enables children with cancer and their families. To date it has supported 25,000 families under its overarching "You are Not Alone" program. She believes deeply in empowerment. She has built up a Parent Support Group model of Patient Navigation which ensures reintegration, livelihoods and empowerment of parents of children with cancer as well as a Childhood Cancer Survivors model of Patient Advocacy which builds Awareness and Advocates for Change at all Stakeholder levels. Poonam is also on the Board of Trustees Childhood Cancer International - an umbrella organization of over 185 member parent and survivor support groups and associations for Childhood Cancer and is committed to building capacities for paediatric oncology in Developing Countries as well. She is the Vice Chairman of Pallium India - a national trust committed to palliative care and has represented India as a Survivor Advocate and Global Cancer Ambassador at several forums and Conferences and UN High level meetings. In 2015 the Indian Academy of Paediatrics awarded her for yeoman services to child health in India.
One Vision One World Karmaveer Puraskaar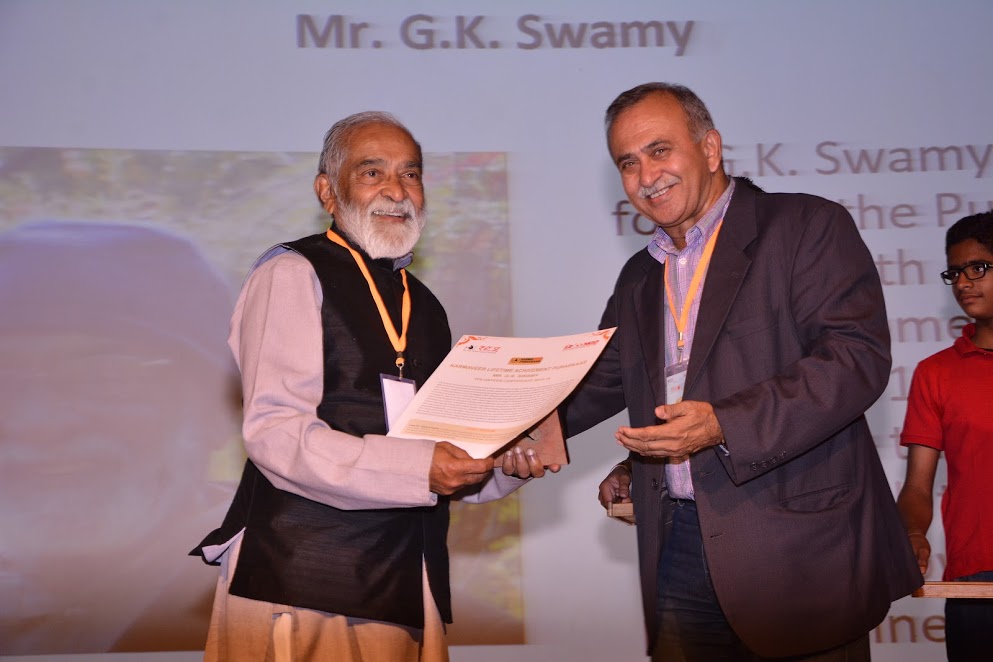 Mr. G.K. Swamy
G.K. Swamy conceived and founded the Purkal Youth Development Society in 1998, a grass root organization, to improve the life style of all those living below the poverty line in this rural area. It was meant to provide children free holistic education helping them achieve intellectual, physical, emotional and spiritual growth. It also aimed at the empowerment of the women. What was once a small organisation is now full-fledged CBSE affiliated school with more 430 students. It is not only a 'Gurukul' but a cradle to build human values. It is a Total Care Centre providing excellent education, health care and nutrition and every other attention necessary to help its wards succeed. Post-school support for pursuing Professional Programmes is also provided. The entire vision of this Programme belongs to Swamy and his wife who works for no monetary reward and raise support from over 500 individuals and a dozen foundations. A women Empowerment Programme, originally started as a Division of PYDS is now an independent Society, Purkal Stree Shakti Samiti. Mrs. Chinni Swamy spearheads this creation. The 126 first generation learners who have passed out of School with the assistance of the Society are a testimony to the brilliance of the Project. They are all eminently employable, pursuing higher education and some are promising to be leaders in their respective fields in due time. The refinement of the Scheme as the years go by, promises to transform not merely the lives of the students at the School but the families of each one of them. Hope that has been kindled is possibly the most significant contribution of the Society. Swamy and his wife Chinni have spent the last two decades working for and raising support for the Mission that they created.
Artistes 4 Change Karmaveer Puraskaar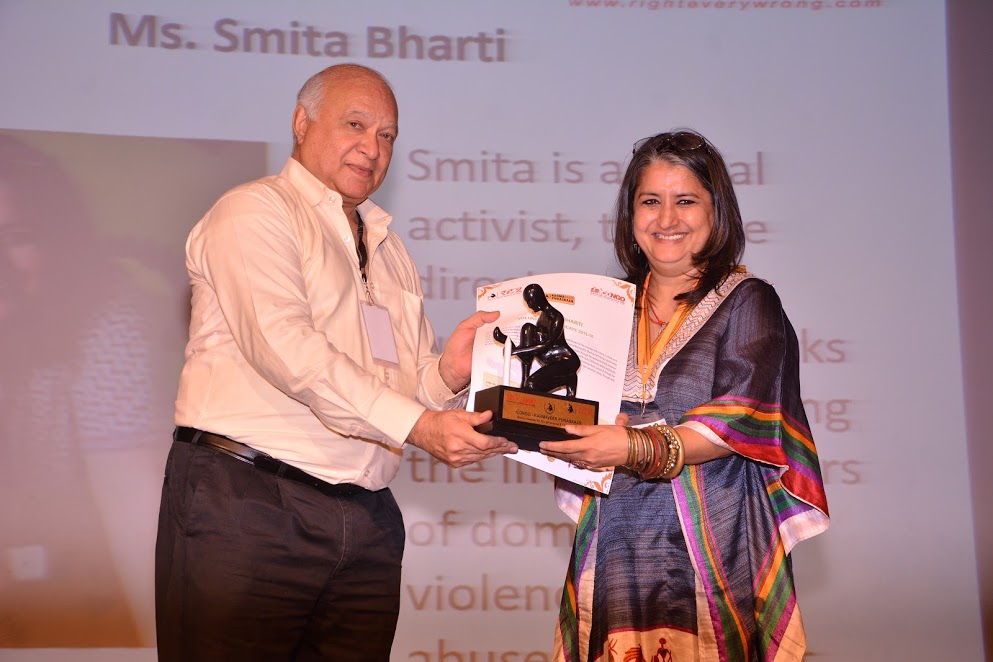 Ms. Smita Bharti
Smita Bharti is a social activist, theatre director, author and poet, who is well known for her courage and bravery to stand up to the challenges of gender violence and for her commitment to the practice of everyday equality. She has contributed significantly to society through social arts for action and behaviour change over the last two decades. Through her work and efforts, survivors of domestic violence, sexual abuse and incest have transcended their trauma to live better lives. Differently abled individuals, children in difficult circumstances, women, and adolescents living on the margins have discovered their potential through her arts based workshops. She has relentlessly mainstreamed conversations around difficult and sensitive issues through well acclaimed and awarded performances that entertain and give a call for action.
Artistes 4 Change Karmaveer Puraskaar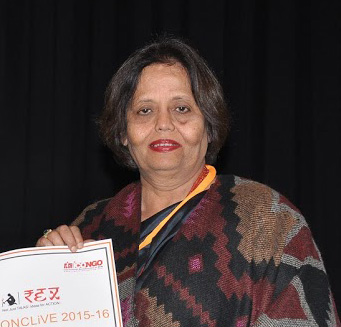 Ms. Sudha Murugai
Sudha Murgai is an active and ardent social worker for the past 40 years. She made her mark in the fields of health, women empowerment, child care, education, animal welfare and was a prolific wildlife television producer. Since 1980, she has been leading the charge against Cancer through her work in Awareness, Early Detection, Patient Care, Counseling and fund raising for economically deprived patients for medicines, food and care. Her work includes community awareness, training programs, emotional support programs, forums and research programs on different forms of cancer. She is a member on the advisory board of World CSR. She has made films on animals, zoos of India and wildlife sanctuaries in India for Zee TV. She is an empanelled producer with Doordarshan. She has produced, along with her late husband, films on pet care. She has also been the Head Mistress of Hill View School in J&K, close to the border area. In one year, after she joined, the number of students in the school increased from 40 to 400. It is now a full fledged Central School. She has organised various fashion shows for a cause. The last one was a walk of cancer survivors and oncologists at the Imperial Hotel on the occasion of Breast cancer Awareness Month. The last feather in her cap was a Preventive Oncology Conference, Pr'Onco on the 4th November, 2016 at the Imperial. This conference was attended by top oncologists from India, USA and UK.
Education Reformer Karmaveer Puraskaar
Mr. Akshai Abraham
A development professional with over a decade of experience in the social sector, Akshai is an educationist of a different kind. Akshai founded Project KHEL - a unique non-profit initiative in Lucknow, India that works with children from disadvantaged backgrounds - slum dwellers, rag pickers, children in shelter homes and children of domestic and migrant labour - using sports, 'play' and interactive methods to engage with children in order to arm them with 21st century life-skills, provide them with various educational and leadership development opportunities and also awareness on crucial issues - thus taking education beyond the classroom and into the play-spaces. Within 4 short years, Akshai has already been recognized for the hard work he has been doing, having been felicitated with the Karmaveer Chakra, a national medallion to recognise exemplary volunteer spirit. He has also been awarded the MSDS Fellowship by CSIM, Young Achievers and Excellence in Sports for Education by the PHD Chamber of Commerce and Industry. He has also been invited to speak at various forum including the prestigious TEDx Talks! He has been covered as a Changemaker by Times of India, an unsung hero by Infolona and The Better India, and also featured as an Amazing Indian on the Amazing Indians TV Show on Times Now! However, Akshai says his real rewards lie in the simple happiness of being recognized on the roads as 'Akshai Sir' every day by numerous slum children whose lives he has changed and whose faces light up with the biggest of smiles when they greet him.
Education Reformer Karmaveer Puraskaar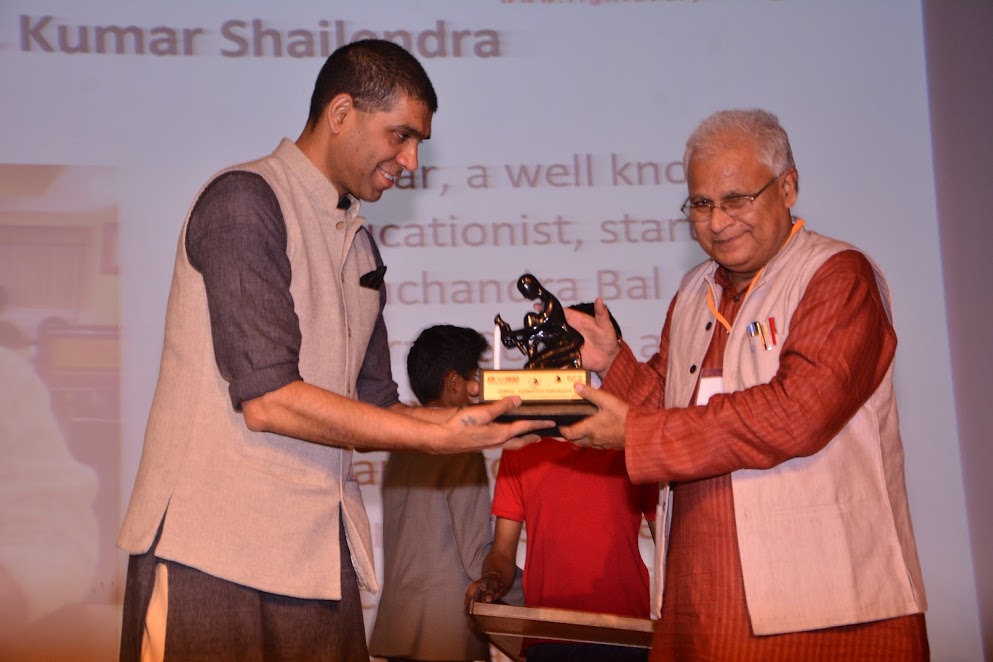 Mr. Kumar Shailendra
Kumar Shailendra is a teacher by profession and HOD at a Degree College of Bihar. He is also a renowned author & poet of Hindi Literature. He stays at Zamania, a small town in eastern district of Uttar Pradesh Ghazipur. He has been awarded by Hyderabad Hindi Academy as "Kavya Shastri". He has written close to a dozen books in different streams of literature and published hundreds of times in all the reputed magazines of Hindi Literature including Kadambini, Dharmyug, Dinman, Panchjanya, Bhojpuri Lok etc. He is a well known educationist as well and he started an English Medium school called Ramchandra Bal Bharati School at Zamania, Ghazipur 15 years ago to help marginalised section of society in availing quality and affordable education. He initiated Freeship for poor students in his school since its establishment. Every year more than 500 students among 1500 students of school pass out from school by availing completely free education. And till now more than 5000 students have availed this facility to shape his future. A lot of students from the school have achieved many milestones including a 9 years old girl who was awarded by President of India last year for her exceptional performance in Archery.