Karmaveer Jyoti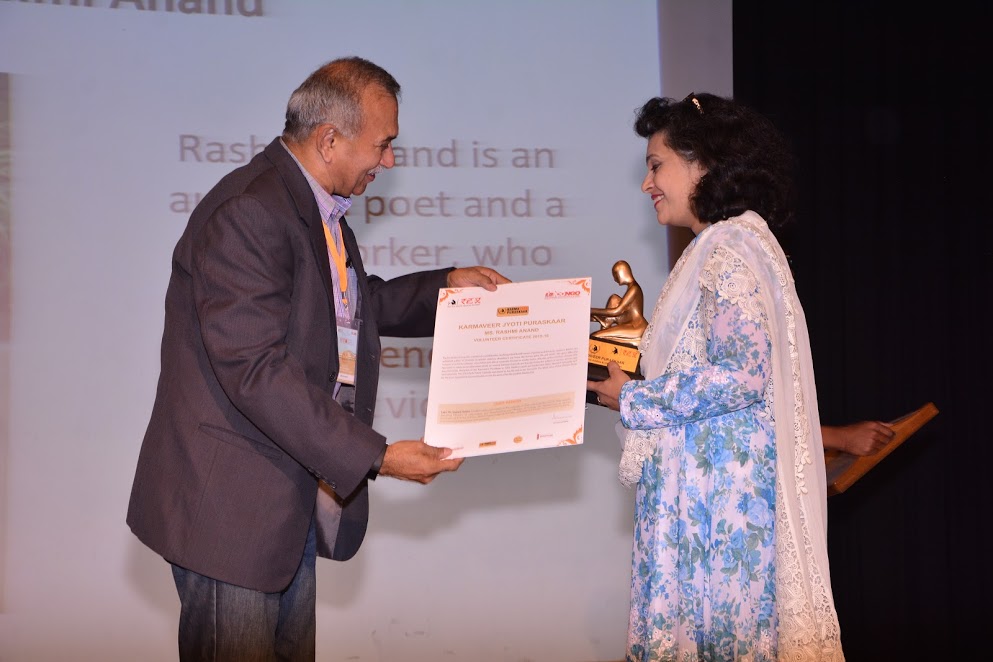 Ms. Rashmi Anand
Rashmi Anand is an author, a poet and a social worker, working primarily with issues of gender and domestic violence. Rashmi is a published author of 13 books on gender violence, abundance, joy, hope, the human spirit, life and death. She gives talks and lectures in schools, colleges, universities and also at corporate houses on similar topics. She also writes children's books. She has been on many social awareness shows on several national channels and has also been the subject of various articles and documentaries. Recipient of the Karmaveer Puraskaar in 2014, Rashmi's work and books have been awarded nationally and internationally. The 2010 Delhi Police Calendar was based on her life and on her first book. The latest issue of the Chicken Soup for the Soul, inspirational series of books, carries the story of her life entitled, Awakening.
Karmaveer Jyoti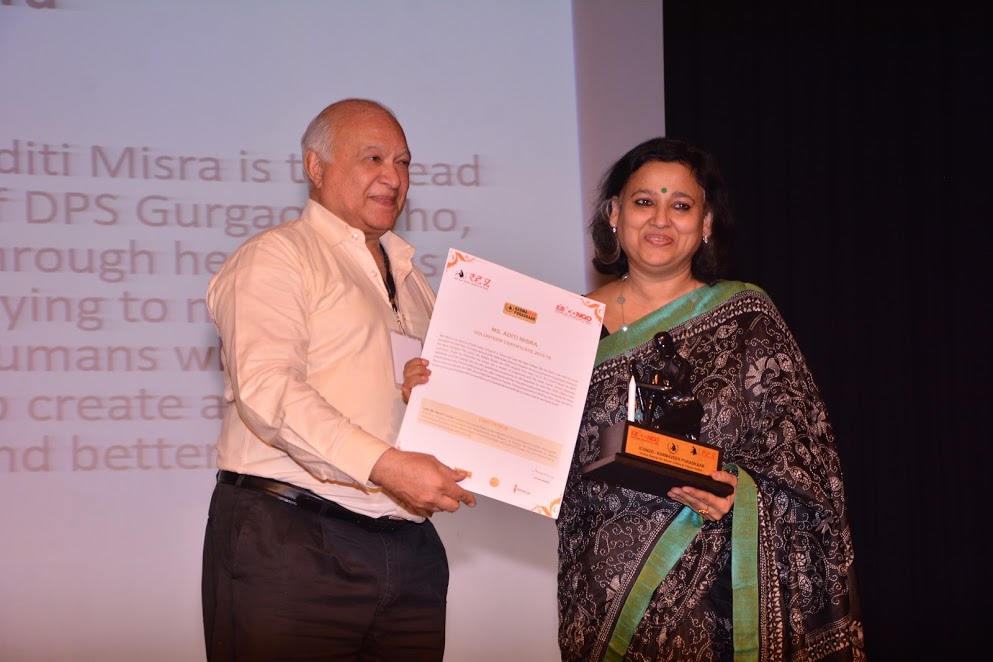 Ms. Aditi Misra
Aditi Misra is an alumna of Delhi Public School R. K. Puram and Lady Shri Ram College. She has been in the field of school education for more than 3 decades. As head of the Delhi Public School in Gurgaon, she runs a school for marginalised children in the same premises. This school, the Shiksha Kendra has 1300 students from class 1 to 12. The school follows the NIOS curriculum. Under her leadership the school runs a number of programmes with the Indian Cancer Society (advocacy, awareness and fund raising). She has also spearheaded programmes for HIV awareness for more than 1000 children from schools across India. The anti bullying squad, the cyber congress and Peer Education programmes are also initiated by Ms. Misra. She is a resource person for CBSE and actively participates in Teacher Training programmes in NCR and other cities. Her aim is to help nurture good humans who are sensitive and compassionate and will help to create a cleaner and better world!
Karmaveer Jyoti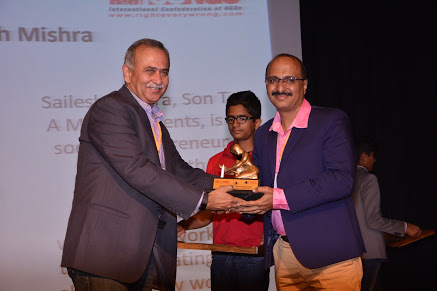 Mr. Sailesh Mishra
Sailesh Mishra, Son To A Million Parents, is a social entrepreneur, mentor and the founder of Silver Innings®, a community dedicated to Senior Citizens in India, through which, he is working towards creating an elder friendly world where ageing becomes a positive and rewarding experience. He has left his well-paid corporate job for his passion to work with senior citizens, which he believes is the most neglected and ignored segment. His work in the field of Dementia is worth to be commended. Having delved deep into the lives of the aged and understanding their challenges, their emotional needs, their wishes and their aspirations and hopes, he felt compelled to start 'A1 Snehanjali' in Mumbai city, a first 24 x 7 assisted living elder care home. He also started innovative programs promoting talent and companionship among the elders. He effectively uses his social media, PR, networking & advocacy skills to outreach people of all ages around the globe, making Silver Innings group a pioneer in Asia Pacific region for using ICT. His vision for an elder-friendly world has garnered support from individuals and organizations across the globe. A belief that these silver-haired, golden-hearted people deserve to enjoy their "second childhood" with dignity, respect and care, has driven Sailesh Mishra and his team of committed souls to reach out to seniors in as many ways as possible. His dream is of India being a global leader in the holistic sphere of the globe, a network beyond borders, between technology, innovations and a socio-psychological approach. His dream is of a society where all generations are empowered and independent to choose their future. He foresees a growth in start-ups and social entrepreneurs for today's youth and tomorrow's seniors.
Karmaveer Puraskaar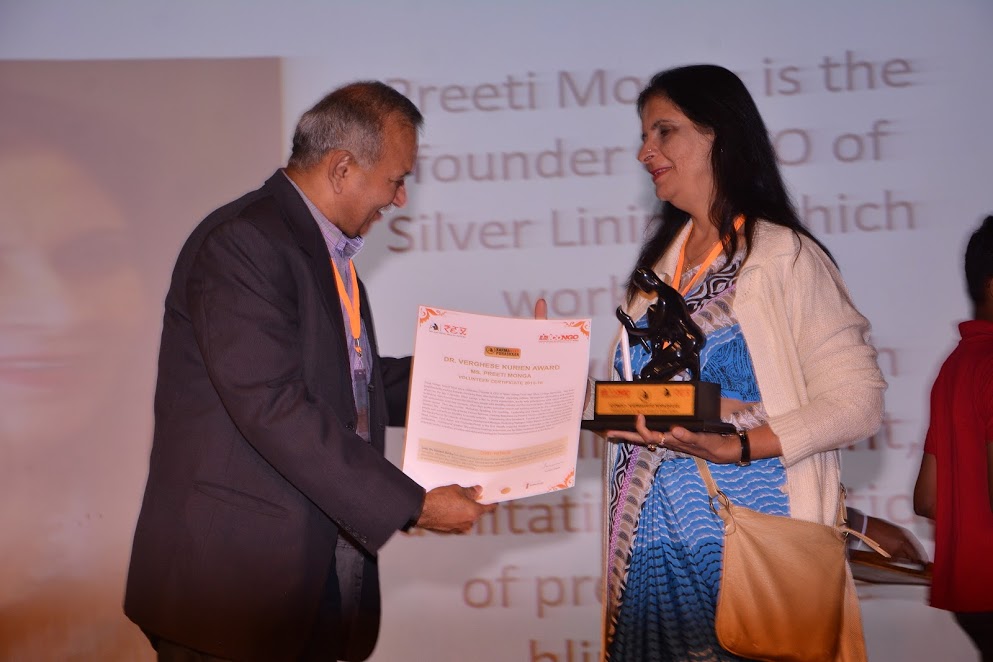 Ms. Preeti Monga
Preeti Monga, herself blind since childhood, (Founder & CEO of Silver Linings Trust and Silver Linings Services), has been singlehandedly working towards improving lives; directly/indirectly impacting millions through her unremitting and arduous efforts for the last 3 decades. Silver Linings, a Not for profit organization, works with girls/women with visual impairment, facilitating reduction of preventable blindness, people with disability, Gender and the citizen at large. Silver Linings Services, a self-sustainability providing company, offers high quality executive search and training services to the corporate and other private sector! They also provide Motivation Speaking, Life coaching, Leadership and Fitness Trainings, Employment of Disabled, D&I, exponentially growing Cornea Retrieval, creating Awareness via Project Fusion a platform that brings together people with and without disability to socially network, Empowering blind females & Trauma and other Counselling services! She has worked in the capacity of business development Manager, Marketing Manager, Public Relations Head, Patient Relations Head, Trainer, Fund Raiser and Counselor.Preeti is the first visually impaired Aerobics instructor in the country and is an outstanding motivational speaker. She conducts trainings to promote and facilitate Inclusion of people with disabilities in the corporate sector, as well as, provides consulting and trainings for Prevention of Sexual Harassment at Workplaces!
Social Entrepreneur Karmaveer Puraskaar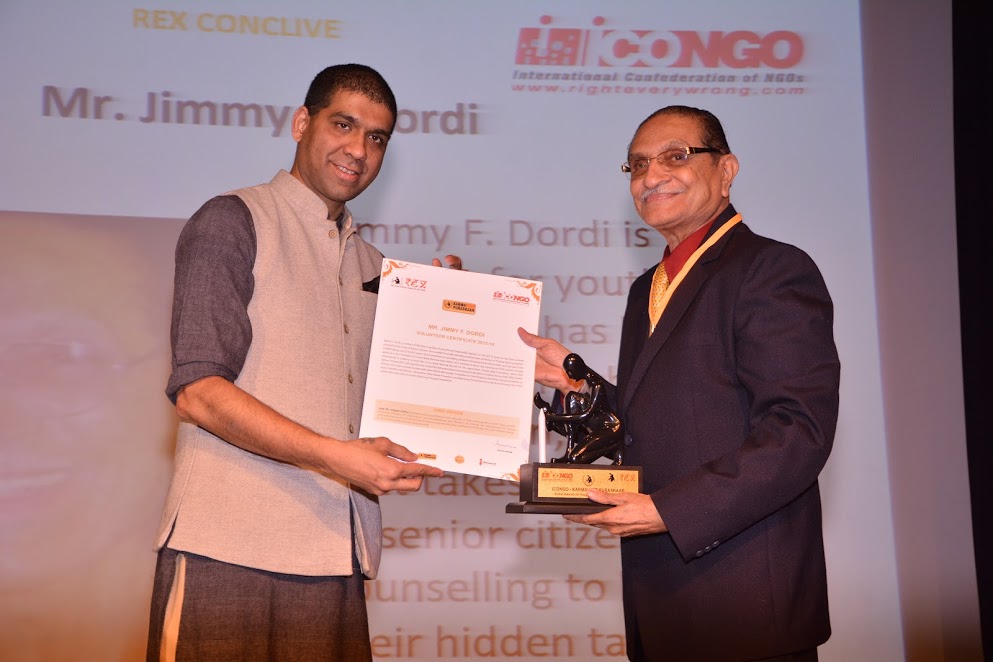 Mr. Jimmy F. Dordi
Jimmy F. Dordi, a resident of Mumbai is symbol of graceful and responsible Ageing. For the last 15 years, he has been actively involved for the cause of Senior Citizens. He is catalyst for youth and elders and has been an Advisor of "Pushpa Maa Foundation", an NGO taking care of 8,500 senior citizen members, in counseling, guidance & bringing their hidden talent as showcase to the world. As a Vice President of Central Bank Retirees Association, he is involved in day to day activities of 1500 retirees. He was instrumental in creating records like Limca Book National Record for his organization, Pushpa Maa Foundation, when 1542 Senior Citizens (60+) got together and recited the National Anthem five times and also World Laughter Record with 1950 Senior Citizens. He is also actively involved with other NGO's like Dignity Foundation as Chief Dignitary and Silver Inning Foundation as active Volunteer and Mentor. His work for Elder Abuse Prevention and Awareness for Alzheimer's is worth mentioning. He is true Leader who never quits to inspire Elders and Younger Generation.
Social Entrepreneur Karmaveer Puraskaar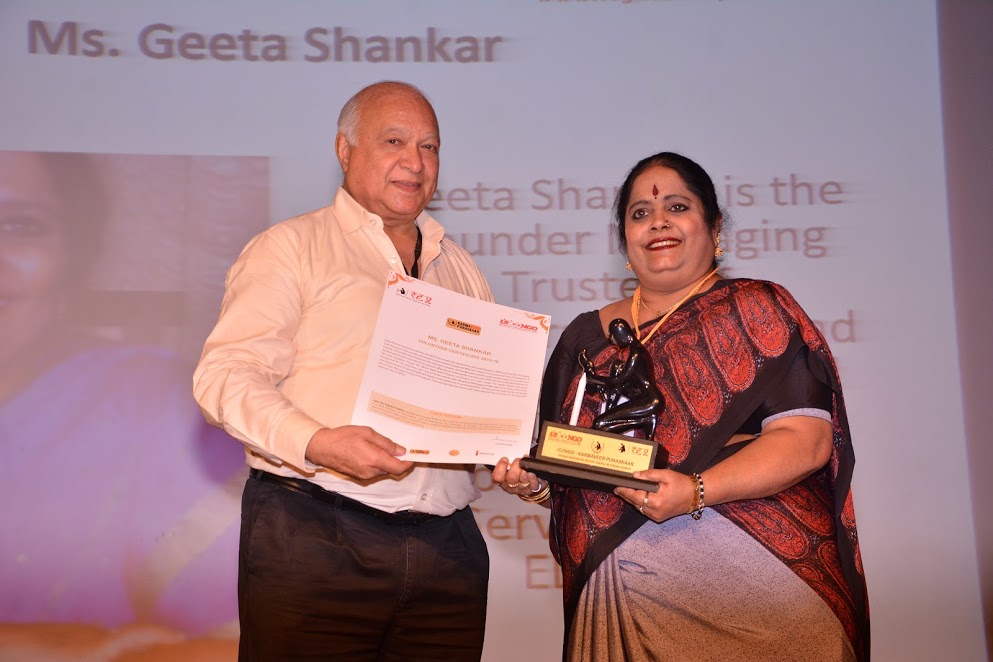 Ms. Geeta Shankar
Geeta Shankar has been an epitome of LOVE to the society. Her experience in social work began in 1989 as a member of Lioness Club-Davangere. She actively participated in Immunization Camps and Modi eye camps in rural areas and city of Davangere. A member of Karnataka Haemophilia Society-Davangere chapter, she has also participated in Haemophilia awareness camps and donated identification bracelets to the patients suffering from Haemophilia. From the year 1998, she has worked with Advisor to the India Population Project VIII (World Bank Aided Project) coordinator as a team leader for Health Based Education Programmes for the urban poor, and covered all the schools under Bangalore Mahanagara Palike with Information, Education and Communication for sexual health and hygiene to the adolescent. From the year 2001- till date, she has dedicatedly remained the Founder Managing Trustee of Omashram Trust and has been honoured with many Awards/ Recognitions for Exceptional Service for the ELDERLY.
Professional Citizen Karmaveer Puraskaar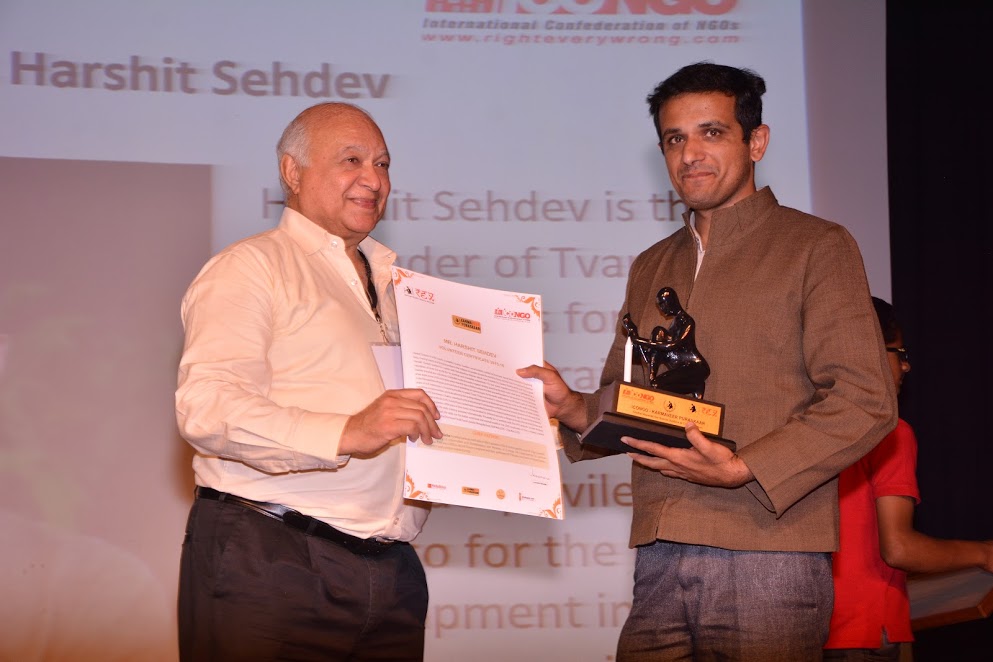 Mr. Harshit Sehdev
Harshit Sehdev is a life coach, counsellor, trainer, teacher, social activist, cyclist and business owner who believes in touching lives, moving hearts and bringing smiles to the millions of people around the world to bring out the best in everyone including himself. Harshit started his career with Ramakrishna Mission which was founded by Swami Vivekananda and has a great reputation all over the world for its spiritual and charitable endeavours. For two years, Harshit served the organisation as a teacher and also as a volunteer. Charitable medical camps, organic farming, teaching the slum kids, relief work in flood affected areas were some of the activities where Harshit was actively involved. Harshit was well known for his teacher's training program in the Ramakrishna Mission and took lots of workshop on various topics for students and teachers in different parts of India. After years of rich experience in teaching, Harshit founded 'Tvam'. Tvam is involved in various activities such as life skills training, life coaching, social activitism, and education for the underprivileged and rural development in the Himalayan region of India. Harshit received REX Karmaveer Chakra- awarded by the International Confederation of NGOs and the United Nations in February 2014 and then again in March 2015. Harshit has coached and counselled people from diverse backgrounds, age groups and profession; and has made a positive difference in their lives. He has worked in different schools, colleges and educational institutions and has also imparted life skills training sessions internationally. Presently he is working with the VKJ projects private limited, Uttarakhand, to impart life skills, for the better emotional and mental health of the 200 employees of the company. Harshit represented India at the One Asian Youth Forum, held in Mongolia from 18th May 2015 - 21st May 2015.